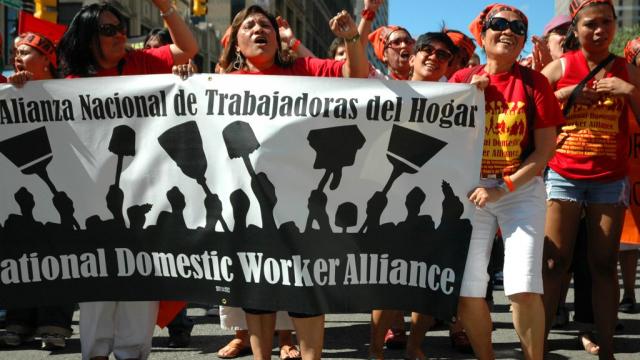 Who We Are
Founded in 2007, the National Domestic Workers Alliance (NDWA) is the leading voice for nannies, housecleaners, and caregivers in the United States. Through strategic campaigns and programs, we improve working conditions for domestic workers and our families, and ensure that domestic workers are at the forefront of a vibrant, powerful movement for justice.
We are a diverse alliance made up of over 60 affiliate organizations --and local chapters--in over 20 states. We are all united by a common belief that domestic work must be respected and valued, and that we have the power to transform families, communities and this country with our vision of care.
Our Affiliate Manual provides information on what it means to be an NDWA affiliate, as well as an overview of our current campaigns, programs and strategies.
If your organization is interested in affiliating with NDWA, please read the Affiliate Manual and then contact anna@domesticworkers.org for an affiliate application.
About Domestic Work
Our national report, Home Economics , paints a picture of the domestic work industry and some of the issues that NDWA organizes around.
Domestic work is real work, and it is an act of love. Nannies, housecleaners and caregivers take care of everything that is most precious to our employers: their homes and families. Our work enables our employers to pursue their own goals, knowing that their loved ones are in good hands. We help raise the next generation, provide respectful, loving care to elders, and enable people with disabilities to live with dignity.
Though our work is vitally important, it has long been devalued. When the Fair Labor Standards Act was established to provide protections for other workers, domestic workers were explicitly excluded. Domestic workers have always been primarily women of color, and these exclusions are a product of racism and sexism. To this day, most domestic workers are underpaid and face high rates of workplace abuse.
Through NDWA, domestic workers are raising our voices together, demanding that our work be recognized and protected. Little by little, we're winning. Together, we're changing history.